The sprinkling truck is mainly used for construction of mines and other enterprises, road flushing and dust covering in large-medium-scale cities, high and low-level spraying for urban landscaping, pesticide spraying and guardrail washing as well as functions of carrying and draining off water and emergency firefighting etc.
(1)High pressure, wide range of spraying good flushing effect
(2)Blunt head universal adjustment, meet the arbitrary Angle and the combination of the flush operation
(3)Pneumatic control and manual control system can realize two functions
(4)External sandblasting processing of tank, internal anti-corrosion treatment,Outside surface adopts advanced polyurethane paint, beautiful appearance and easy
(5)Front and back high spray is optional, water jet diffusion function, 360 degrees of rotation, 150 degree tilt up and down.
Low chassis
Use the domestic well-know manufacturers such as sinotruk cost-effective sophisticated chassis, high reliability, good comfort, high cost performance.
Low tanks
Raw materials are all made of domestic large steel mills quality gb steel. The head spinning forming, tanks roll forming, such as a domestic advanced technology. The actual volume of tank is the domestic industry the announcement of the same model chassis bigger volume 2~4 cubic meters.
Main function
Can realize the road cleaning, cooling dust, green irrigation, spraying operations, with former spray and sprinkle, water cannon, double side flower is aspersed, cross washing, gravity imbibition, and other functions. Switch control cab pneumatic operation can be realized, but also can design according to user requirements.
1. Front jection
2. Back sprinkling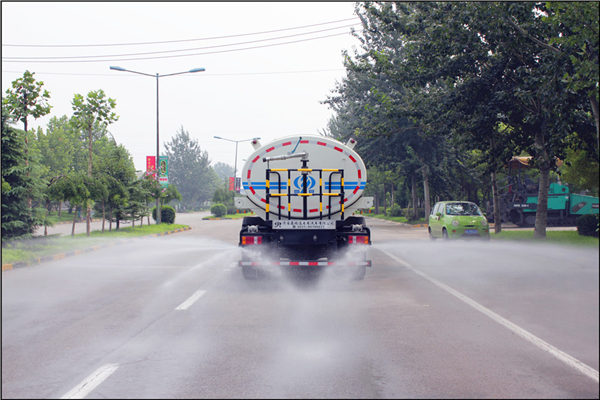 3. Overhead spray gun